Happy Friday, icons! Maybe it's the heatwave soaring across the continent right now but it seems like so many of the collections coming out of our favourite fashion brands du jour are very very thirsty – from Acne Studios and their butt-crack-on-display campaign for an iconic bag, to JW Anderson partnering with a beloved queer erotic artist and Alexander McQueen SS23's raunchy ode to the night. We also have an interview with Sagg Napoli, the chic archer decked out in full Bottega Veneta, and a hopeful, dreamy collection from the Ukranian brand bettter, currently housed at Dover Street Little Market. Here is what's in fashion.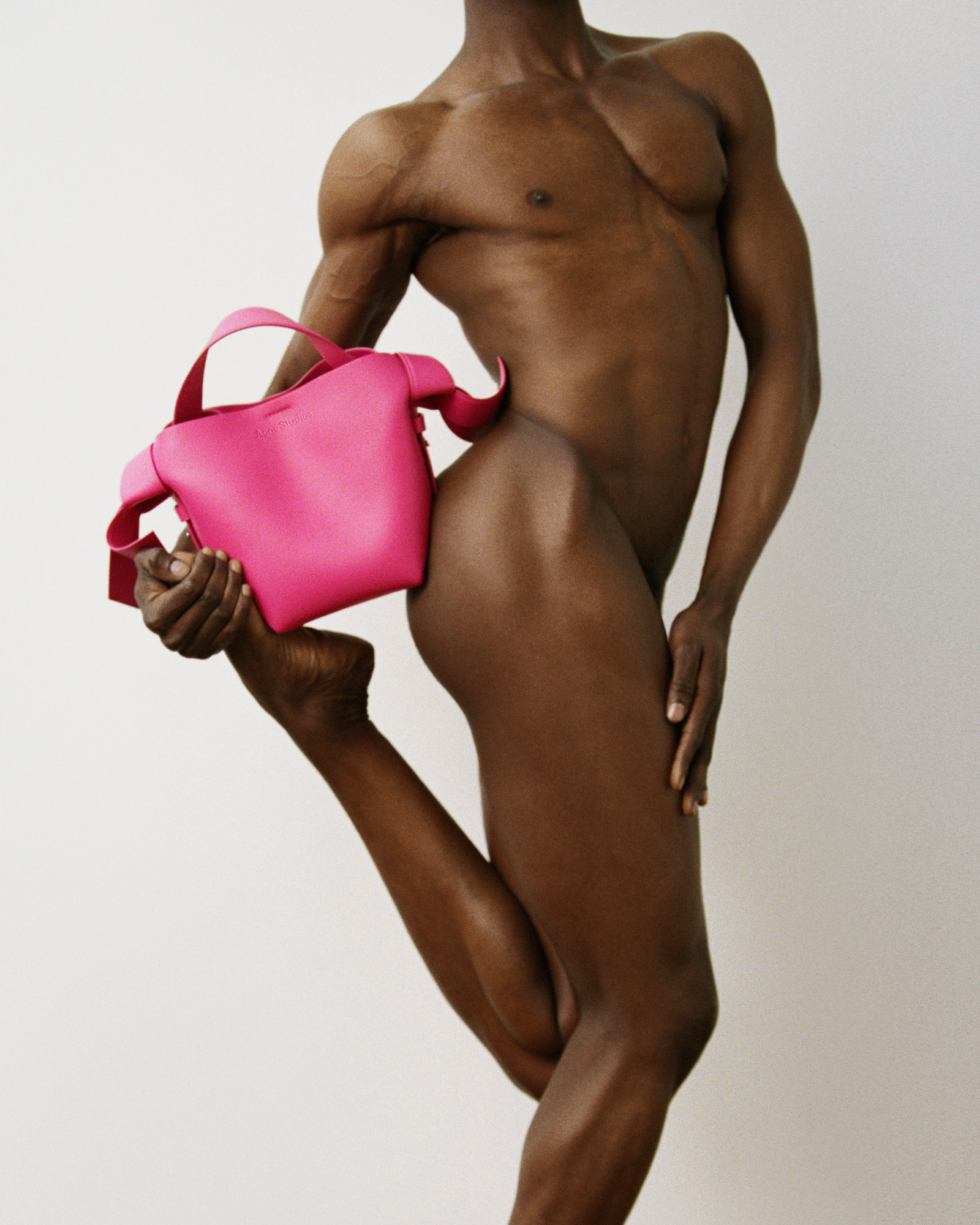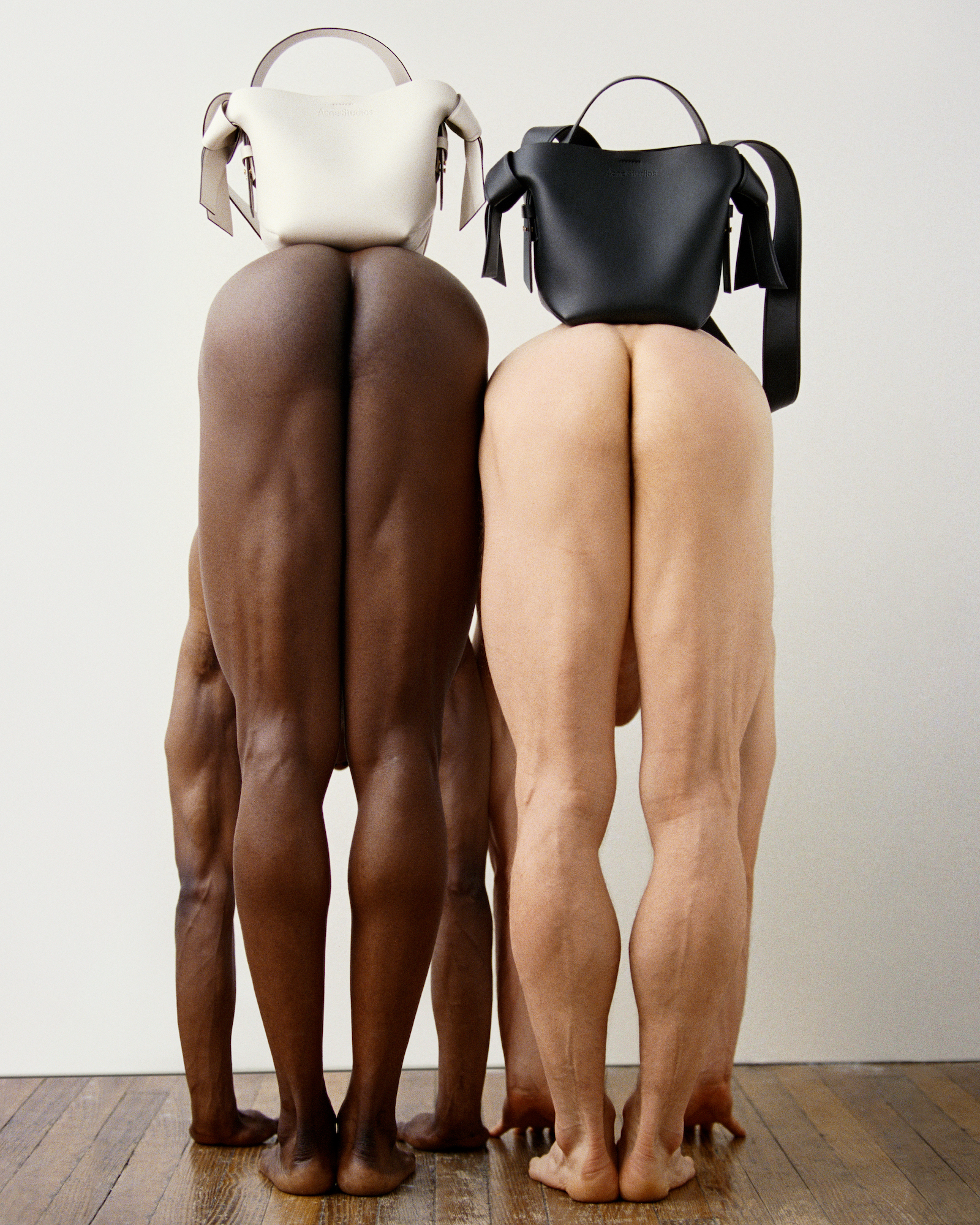 Images courtesy of Acne Studios.
Acne Studios has a sexy new campaign for their Musubi bag 
Sometimes you pick a bag to go with your outfit, and sometimes a bag is such a statement piece the only look that can be just as striking is your birthday suit. To showcase their iconic Musubi bag, Acne Studios sent over a bunch of the Italian leather bags – uniquely tied with twisted knots in a traditional Japanese Obi Sash style –  to NYC artist Talia Chetrit to capture them as she wished. The result? An incredibly intimate shoot where two naked dancers pose with the cowhide pressed against their human skin, covering their modesty, balanced above their butt cheeks and pressed sensually against their face. The idea behind it was that the two dancers have the same qualities that the bag also holds: strong, supple, desirable. For SS22, the bag will also come in new tote and shoulder bag offerings and launched this week in artistic displays in New York, Los Angeles, Miami, London, Milan and Berlin, so you can see the beauty of Talia Chetrit's campaign photography IRL. TG
JW Anderson's new capsule collection with Tom of Finland is NSFW
There are horny designers and then there's Jonathan Anderson – the man behind those slashed hinge tops, singlets and cock keyrings in recent collections for his namesake brand, and plant-sprouting grey sweatpants and trompe l'oeil naked suits for Loewe. But his latest capsule trumps the sexiness of them all: a partnership with the Tom of Finland Foundation. The legacy of the gay artist from the mid-twentieth century – whose erotic queer post-war art of hypermasc, muscle-bound jocks with emphasised bulges in chaps, harnesses and tight denim jeans has been preserved by the foundation – has since become a symbol of unapologetic queer sexual espression. Now, some of the artist's raw and unfinished 'working drawings' adorns two JW Anderson ready-to-wear fitted print tees, whilst a particularly NSFW pencil drawing is splayed across bum bags, totes, short shorts, varsity striped jockstraps, lycra vests and more. We certainly have our outfit for the next Adonis planned! Check out the full collection either at JW Anderson's Soho boutique or online. TG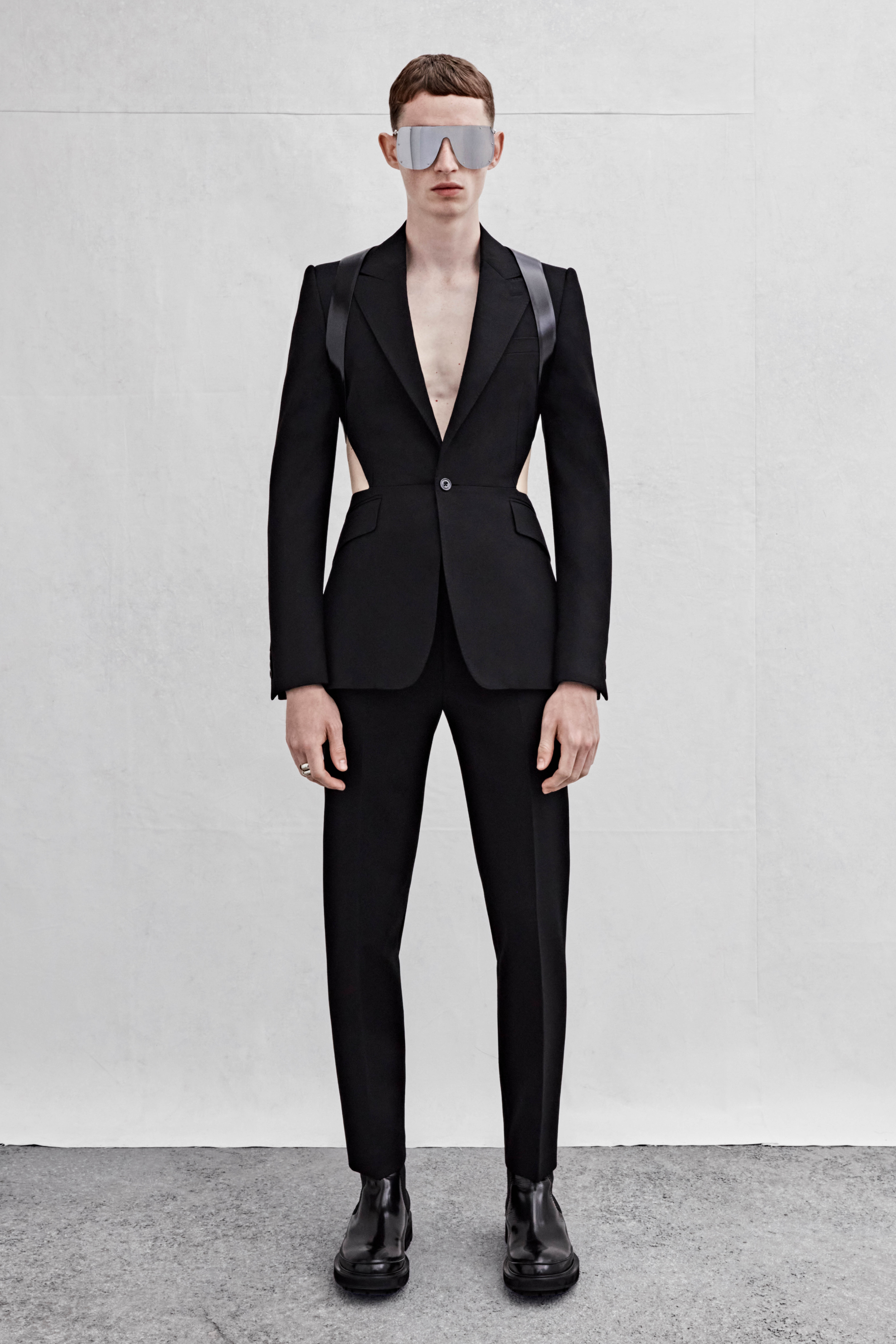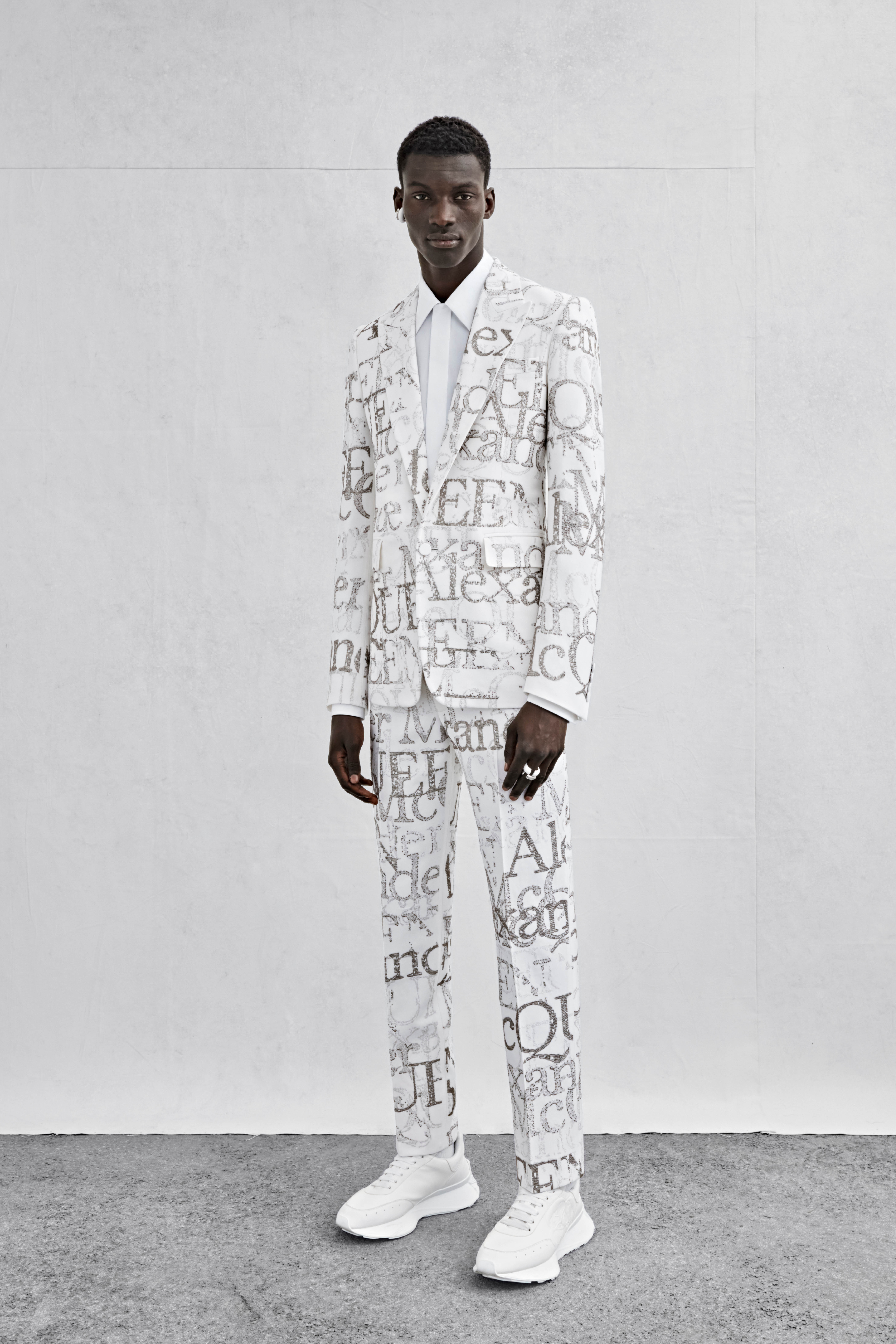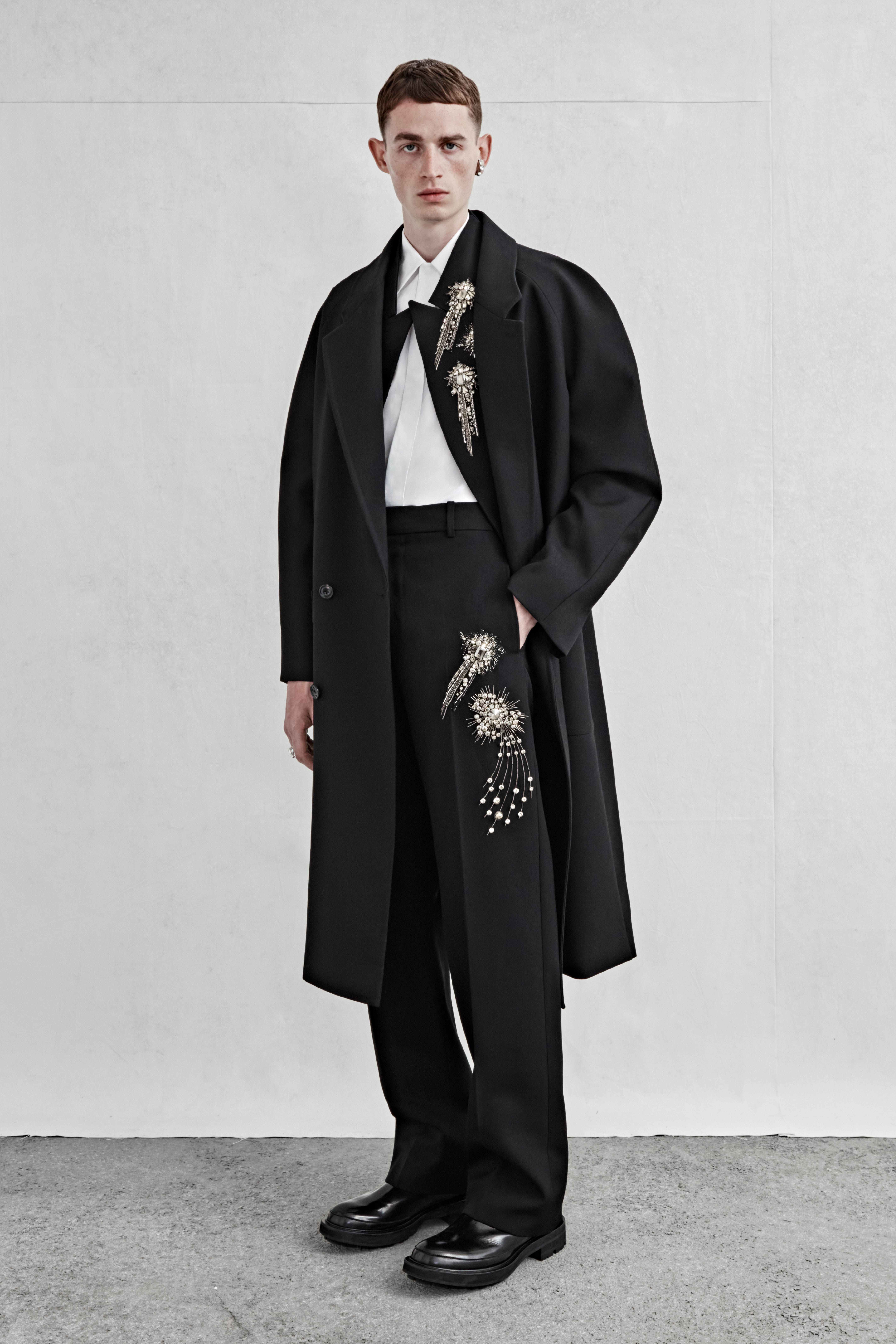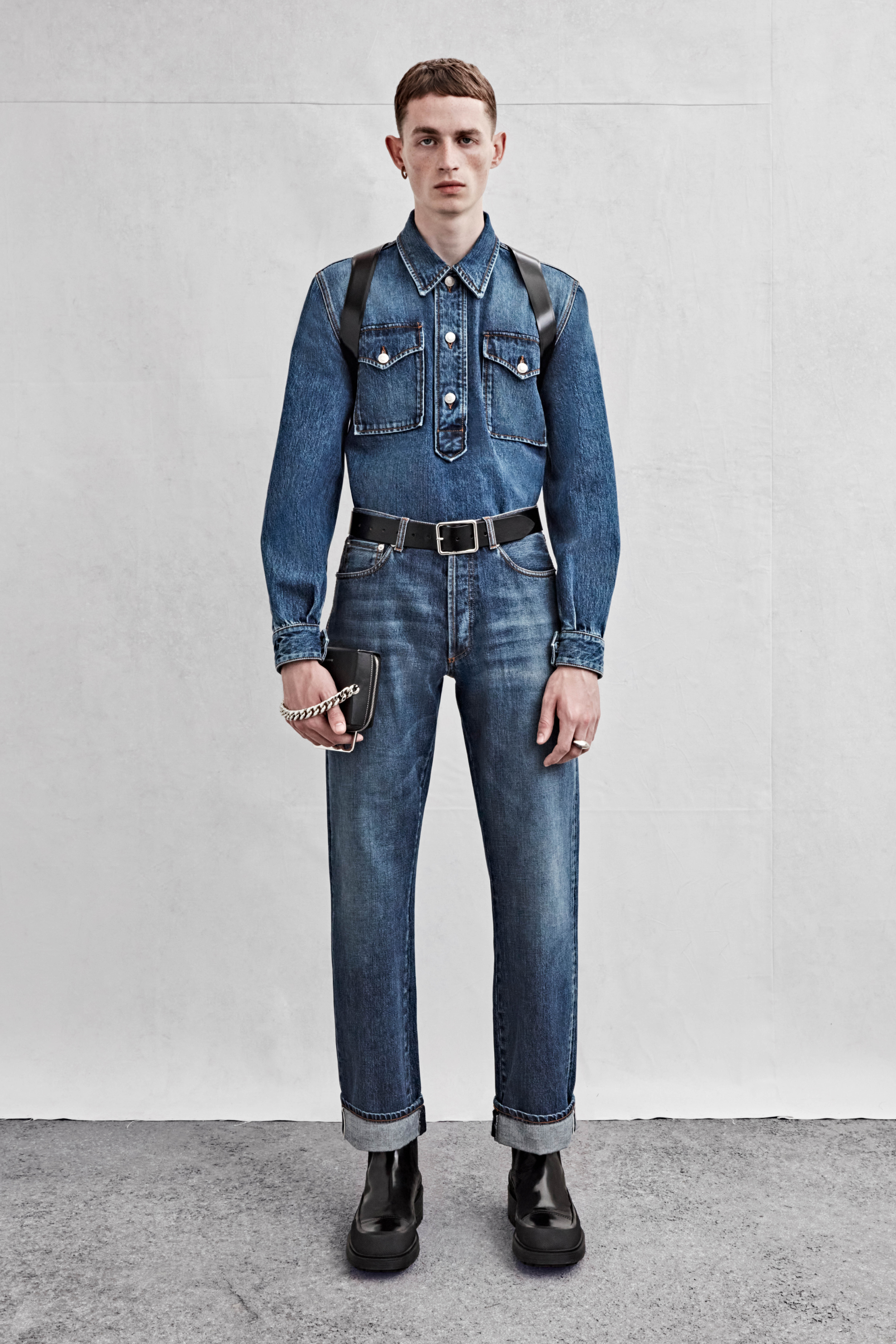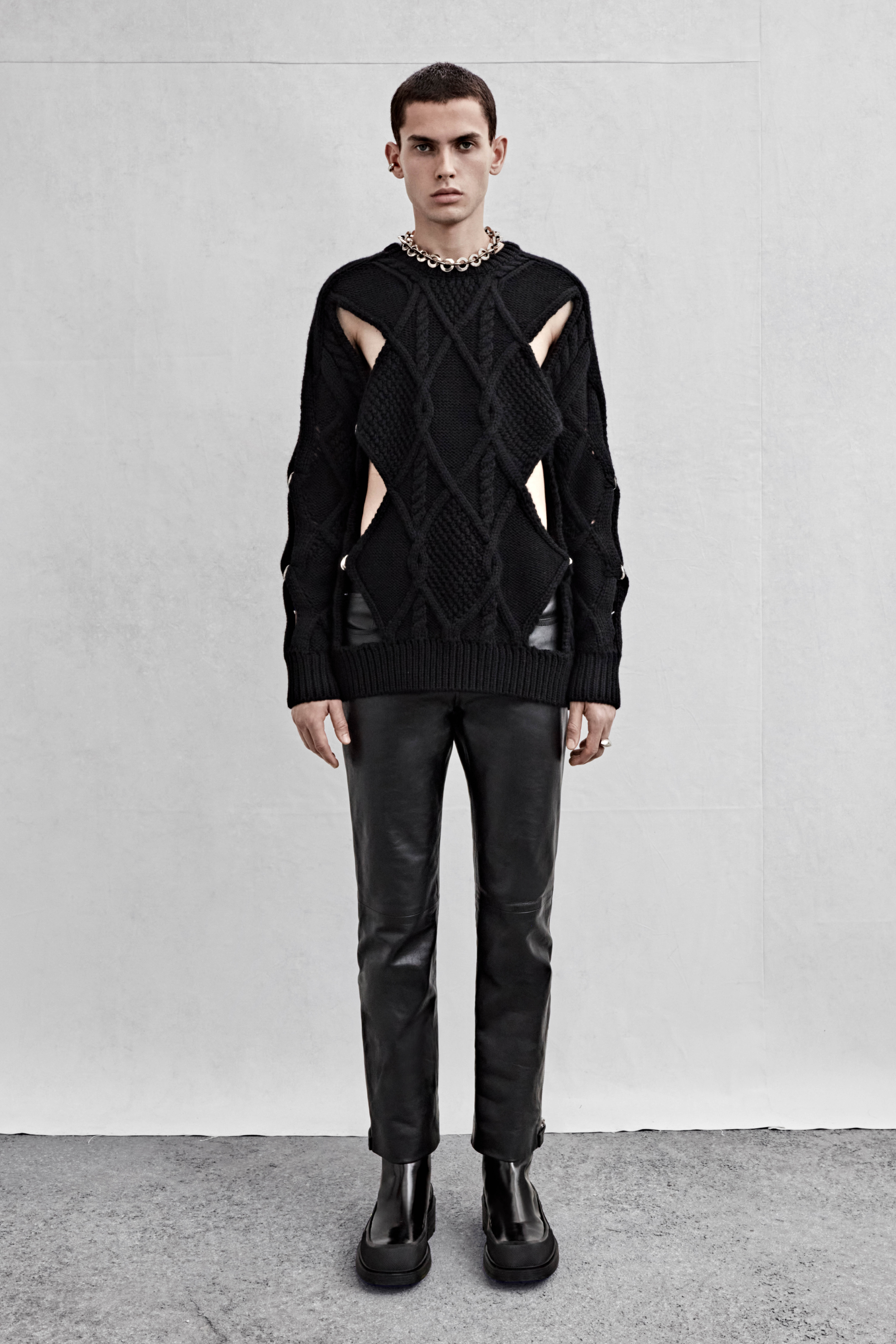 Images courtesy of Alexander McQueen
Alexander McQueen looks to starry skies for SS23
When it's tricky to find inspiration here on earth, look to the skies. Gauging Alexander McQueen's SS23 menswear collection, that's exactly what Sarah Burton did. Granted, it's not the first time that the house's creative director has channelled the heavens in her work – the savvy among you will recall Sarah's SS22 womenswear collection, which echoes the tones of the fickle skies above McQueen's London studio. This time around, though, the tone struck is an altogether duskier one. The spirit of the evening makes itself felt, first and foremost, in the sharp, tailored silhouettes that set the baseline – think: slim black wool double-breasted jackets with satin peak lapels; roomy cloud grey suits; asymmetric cape coats that convey a sense of operatic glamour. Oblique-baring cutouts, harness details and straight-leg leather trousers bring a more sensual – raunchy at times, even – timbre into the mix, while astral embroideries, grainily painted leathers and glittery logo prints channel the glitz of a twinkling night sky. A collection that you can be damn well sure we'll be wishing on a star for come next spring. MS
Dover Street Market Paris has a new Ukrainian designed capsule
Since the beginning of Russia's invasion of Ukraine and the subsequent ongoing war, there have been many simple life pleasures that Ukrainians have not been able to enjoy since. For the team behind Ukrainian brand bettter, known for their upscaling of upcycling fashion, one of the memories of pre-war times that they cherish most is of the legendary raves that were once a fixture of Kyiv's nightlife, and the spirit of resistance, uncompromising boldness and creativity that defined them – qualities that are all the more pertinent in light of the current situation. To celebrate this beloved past and to look to a bright future where they can return to the dancefloor once more, the brand presents MRIYA drop_09 in collaboration with Dover Street Market. Mriya means "dream" in Ukrainian and the collection comprises kaleidoscopic, unabashedly fun upcycled designs – think a coat that transforms to a cape to a sleeping bag; raincoats made out of old tents and swimming suits; crop tops cut from lycra cycling gear. Check out the collection today at Dover Street Little Market in Paris. TG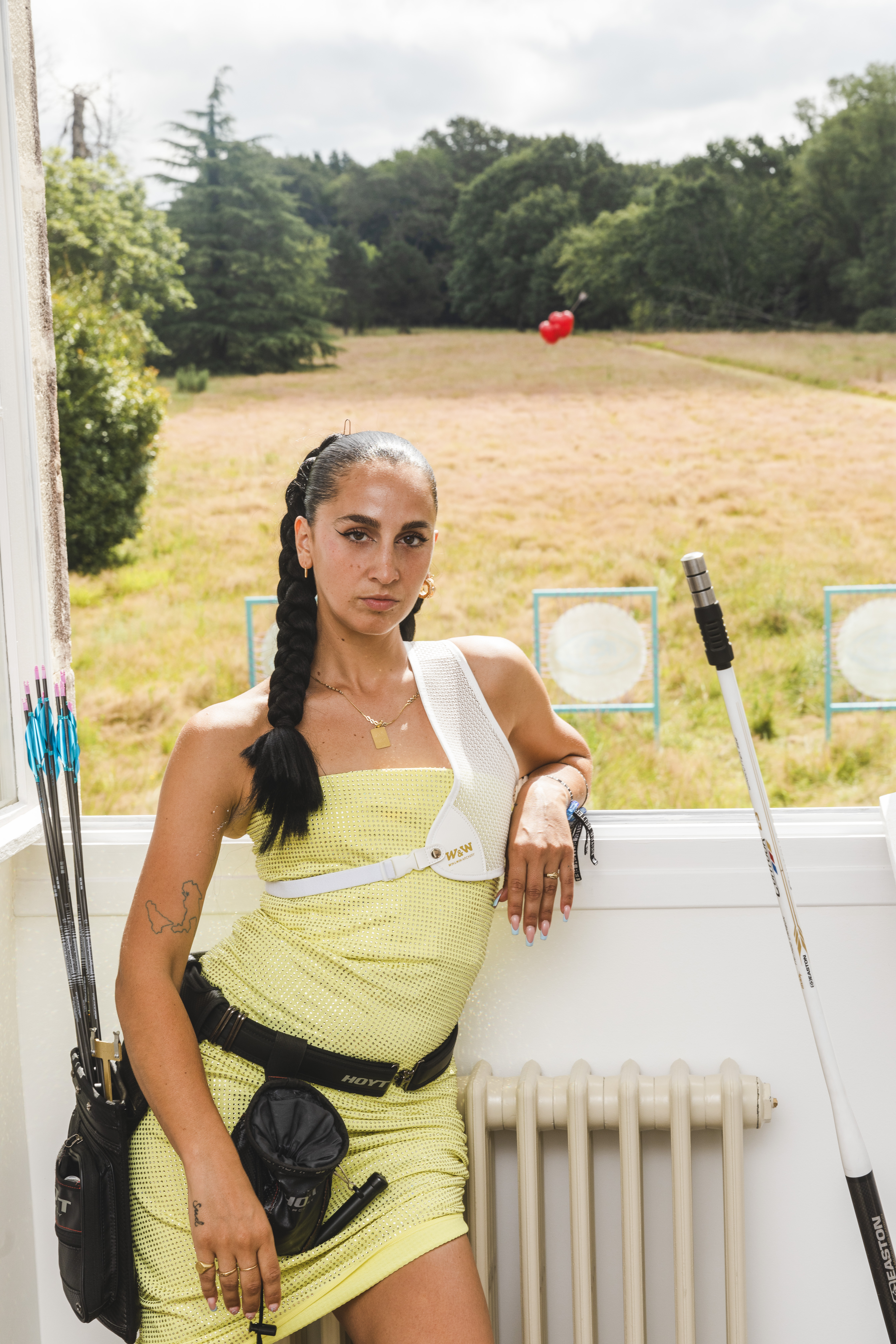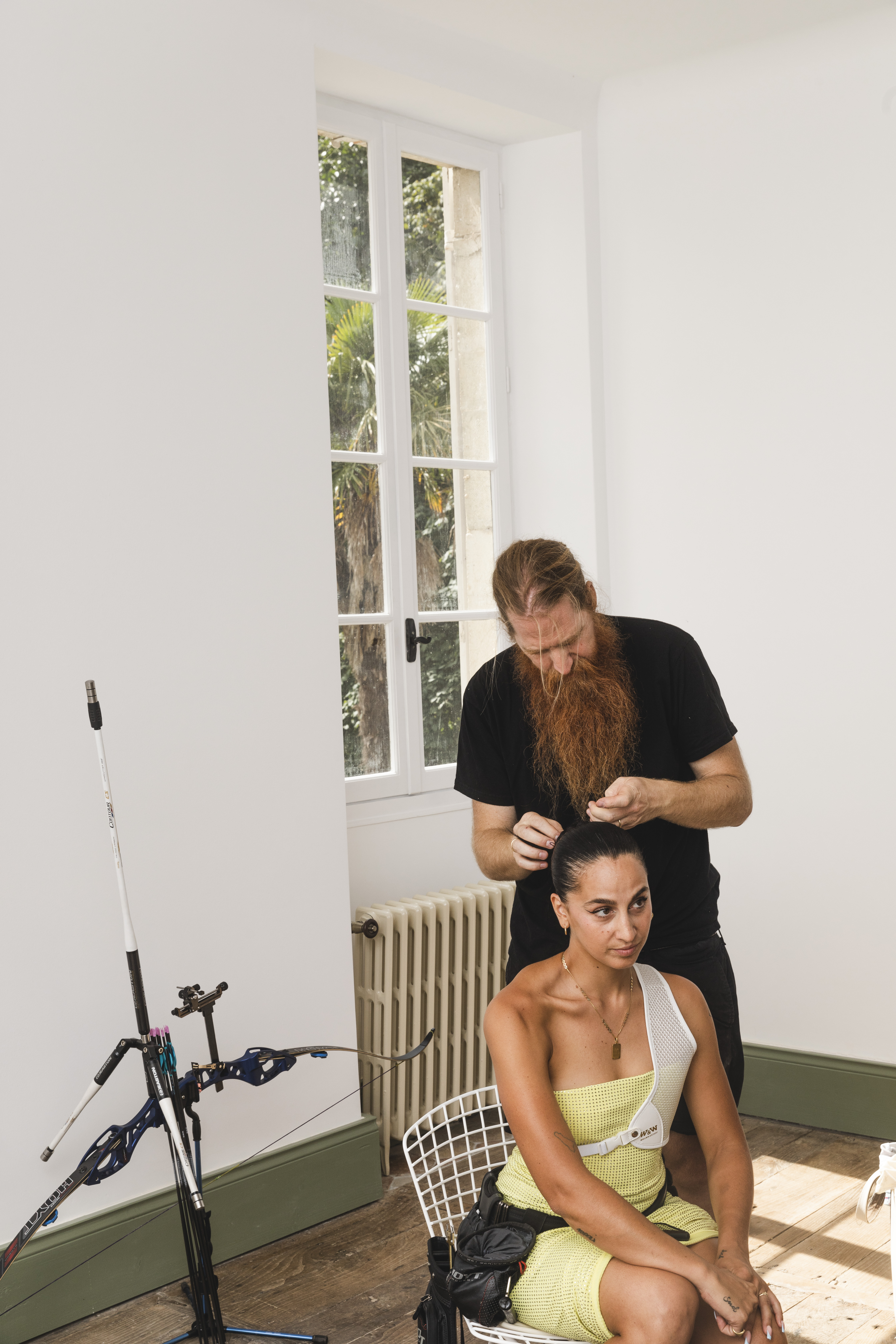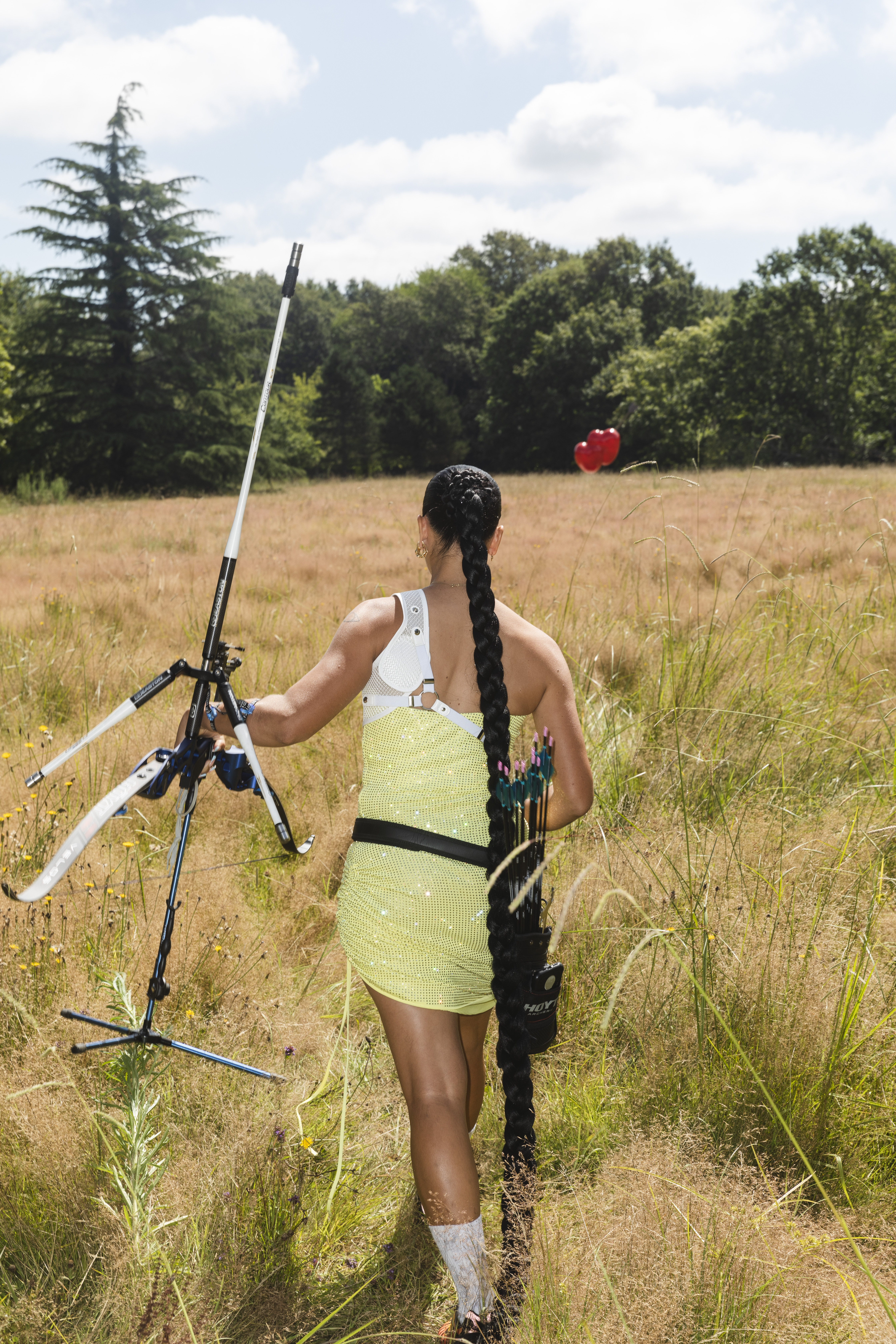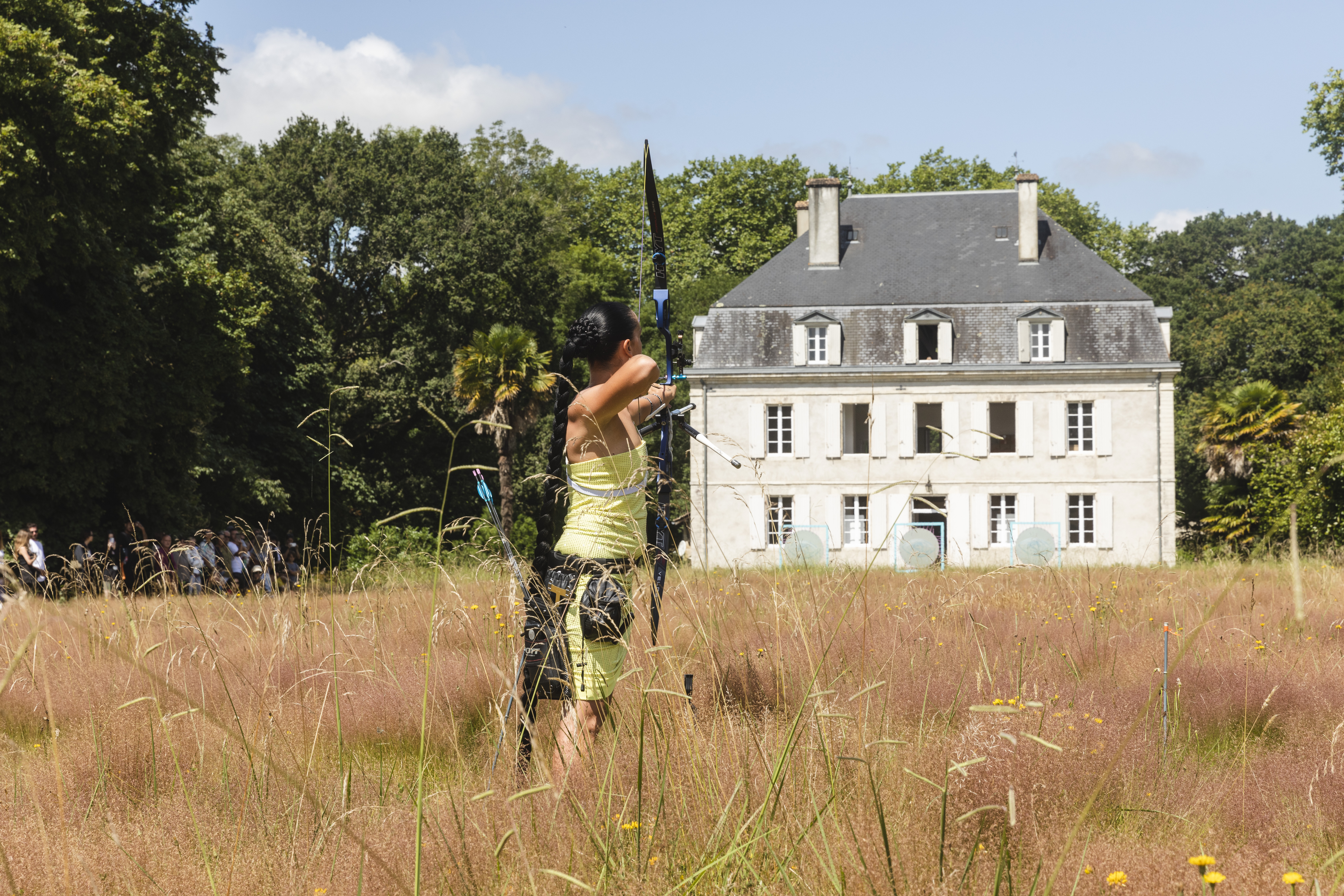 Photography Thomas Aulagner
Sagg Napoli hits bullseye in Bottega Veneta
Can you think of a sport chicer than archery? No? Well, neither can we. Requiring strength, focus, balance and poise, it wouldn't be unfair to think of it as the playing-field equivalent to modelling. In fact, last night, when we watched Naples-born, London-based artist Sagg Napoli's archery performance at the opening of Champ Lacombe gallery in Biarritz, you'd have been forgiven for thinking it was the set-up for a shoot destined for our very own pages – no less due to the fact that the artist was decked out in a full look from Matthieu Blazy's debut collection for Bottega Veneta. Following her spellbinding turn shooting at sculptures she'd created in response to the works of Gaetano Pesce – the subject of Champ Lacombe's inaugural exhibition – we were so enraptured that we decided to sit down with Sagg and get to the bottom of what, exactly, makes archery such a stylish sport.
Hi Sagg! Could you give us a quick intro to who you are? How would you summarise your artistic practice to someone encountering it for the first time?
Ciao! I would say my artistic practice is a mixture of video, sculpture and a strong body presence – I wouldn't call it performance, but rather a way of training the body in several disciplines, which allows me to access different identities.
How did archery become part of your practice? When did you first take up a bow and arrow, and what was it about the sport that appealed to you? 
I first took up a bow and arrow over a year ago, and it was really about shooting an arrow for a piece that I was working on. Since then, though, I've never put them down! I started competing indoors after two weeks, and then after a month, I was partaking in outdoor competitions, shooting at a 70 metres distance. The experience has been humbling and has unveiled qualities that I didn't think were in me. 
What makes archery so chic? 
I think archery, as opposed to other sports, doesn't run on adrenaline. Rather, it's about mental focus, physical balance and consistency – you need to repeat the same move over and over again and that takes a lot of strength! 
Could you tell us a bit about your performance? What was it rooted in, and how would you describe its significance? 
This is the first time that I've shot my own sculptures – previously, I shot works that were made collaboratively with my friend Stefania Botoeva. This is also the first time where I semi-followed archery regulations, as I'm shot at Olympic distance – which is 70 meters – and the sizes of the target were the same as regular targets. There were just a few twists, though, as the targets I built nodded to the work of Gaetano Pesce. 
You wore Bottega Veneta for the performance. Tell us a bit about your look – how did it make you feel? What energy did it exude? 
Wearing Bottega Veneta was perfect for the occasion. I wanted to move away from my usual archery gear, but also were something that I could comfortably shoot in, and feel iconic at the same time. I really like the idea of creating situations where a sport that's as niche as archery can suddenly feel spectacular and seductive.
What common ground is there between the worlds of Bottega Veneta and Sagg Napoli?
They say archery is the most modern of ancient sports. In the same way, I feel that Bottega Veneta is the most modern of Italy's heritage Houses.
Follow i-D on Instagram and TikTok for more fashion news